Below you will find an interactive social story that you can use to teach a child how to behave in a restaurant.
But first some quick instructions and information…
You will have to scroll through the PDF to view this whole story. You will also need Adobe Reader (free download). If you can't see the story from a mobile device, go to a desktop or laptop computer or try downloading Adobe Reader to your phone/tablet. Keep in mind that the story cannot be viewed from our Feed at Google Feedburner (you will only receive our Feed if you subscribe to our RSS). If you are in the Feed click on the article title so you can view the story. If you have any trouble accessing this story, contact us.
Social stories are a great way to teach someone how to behave in a particular setting. Because no situation is the same, it may be helpful to talk to your child about how their restaurant experience might be different from the story below. You may want to practice "restaurant behavior" (as taught in this book) at home first, before going to the restaurant. This can help your child learn and practice the expectations, which will make him/her more likely to succeed on the actual trip.
You can print this story out to read with your child.

Did you scroll through the whole story? I hope you enjoyed it! You can make your own social story by using real pictures of your child/family or pictures from Google Images.
Recommended Social Stories:
All About Going to School (to help a child prepare for the school day)
I Am Going to the Doctor (to help children prepare for doctor's appointment; can be used with adults too; good for people with fear, anxiety, or resistance at check-ups)
I Am Going to the Dentist (to prepare children for dental appointments)
I Hate the Word No (a story to teach Kids to calmly respond to the word no)
Recommended Articles:
25 Privileges You Can Let Your Child Earn for Good Behavior
Top 5 Reasons Your Kids Don't Behavior and What You Can Do About It!
17 Ways to Get Your Kids to Listen to You and Show You Respect
15 Behavior Strategies to Help Children with Autism
Thank you for visiting educationandbehavior.com. We have so many strategies to help you support children in the areas of learning, social development, and behavior. We also have information on disabilities, special education, bullying, and homeschooling; and a lot of free resources and materials! Many of our strategies can also be used to support adults with special needs.
Receive our updates on Facebook.
Recommended Books:
The New Social Story Book: Over 150 Social Stories that Teach Everyday Social Skills to Children with Autism or Asperger's Syndrome, and their Peers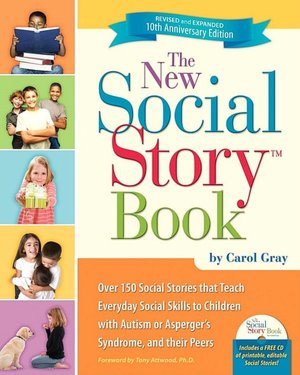 The Social Skills Picture Book Teaching Play, Emotion, and Communication to Children with Autism
Do you want to enhance your knowledge and career opportunities in the field of autism? Become a certified autism specialist. Educationandbehavior.com is approved by the International Board of Credentialing and Continuing Education Standards. You will receive 20% off of your Autism Certification with the partner code educationandbehavior at www.ibcces.org.
Educationandbehavior.com
is a free resource for parents, caregivers, educators, and counselors. We provide academic, behavioral, and social-emotional support for children. Our mission is to provide accurate information and effective research-based strategies, with an ultimate goal of making a positive difference for children.
Find out how you can contribute to educationandbehavior.com!
Submit a Guest Post
We value guest writers at 
educationandbehavior.com
 and would love to hear from you! Our site provides free support for children in the areas of learning, behavior, and social-emotional development. If you are interested in submitting a guest post, topics of interest include autism, learning disabilities, academic strategies, bullying, ADHD, IEP's, occupational therapy, speech-language development, social skills, empathy, depression, anxiety, grief, divorce, fitness/nutrition for kids and other related topics. Articles can include strategies, information, or personal inspirational stories. All strategies/tips must be backed by research that can be linked to or cited, or backed by experience-based accounts/anecdotal reports that are described in your post. Submissions can be written in the form of an article, poem, or letter. If you wish, your guest post would include a short bio about yourself with a link to you or your blog (or business) in the "About the Author" section. Please contact our CEO, Rachel Wise, at
[email protected]
if you are interested in submitting a guest post. We also accept sponsored posts. Please contact our CEO for more details about our guidelines for a sponsored post.
contact page
,
Facebook Messenger
, or email our CEO at 
[email protected]
. 3) You can post in our Facebook group to get feedback/advice from other parents and professionals, including our CEO. If you post in the group we may ask to turn your question into an anonymous post for our advice column. Here is a link to the group
https://www.facebook.com/groups/798148863618619/?ref=br_rs
.